A Pocket, A Cue, A Shot is built using the framing method for domestic architecture. Pine 2 x 4's set at 16" distance are employed in constructing the frame for a pool table whose "felt" is a bare mattress punctuated by pockets lined with sheer stockings. The rawness of the piece, including the exposed industrial materials of the mattress's interior, disallows for the possibility of settling on a tidy or finished read. Its title, A Pocket, A Cue, A Shot, encourages a reading that is both about the posturing potential of the game of pool and the bravada of calling a shot, as it is about the extended combo shot wordplay of innuendo where cues and shots are all about reaching into otherwise elusive pockets. This is a table without sticks or balls – the tension it creates is not related to any immediate playability, but rather for an anticipated potential. As an object, the bed/table/ model of domesticity conflates the social and sexual imperatives that infuse the atmosphere of the gay bar. It offers a tension that emphasizes the intimate connections forged in both the context of the bar and the bedroom. The public pleasure of playing a game, and the private pleasures indicated by the mattress offer a narrative that is both subtle and charged.



mattress, 2 x 4s, rubber, stockings
4' h x 4' w x 7' l
2012
Vanishing Point


Vanishing Point establishes its own horizon line via a long narrow balsa wood structure that references the seedy pleasures associated with boardwalks generally, and the specific cruising grounds of the Christopher Street Pier in Manhattan. That pier has for the last two decades become an increasingly contested site, where the interests of generations of queer youth of color who have congregated there conflict with the property owners of gentrifying developments whose resources have been put to use in enforcing a curfew for this otherwise public space. The silver mylar balloon that floats above or droops over the pier reads as a sign of celebration, but an inherently ephemeral one; the vanishing point of the title is not a distant point but a flamboyantly large and reflective form that retains an insistent presence despite its deflation.




balsa wood, mylar helium balloon, ribbon, nylon hardware
36" l x 2" d x 8' h
2014
vs. Vanitas plays with the tension between invisibility and narcissism. This diptych of laser-engraved mirrors, punctuated by two dozen globe-shaped lightbulbs and resting on wooden frames, is reminiscent of roadside billboards. The right panel advertises the upside-down, suspended and empty dress of Judy Garland's Dorothy Gale from the Wizard of Oz, and phrases describing the 1959 gay riot against police harassment at Cooper's Donuts in LA.: bustling with disobedience – John Rechy – a barrage of coffee cups, spoons, trash – dancing / routine harassment – queens -hustlers – cruising – arrested queers escape patrol car. On the left, a banner announces accustomed to manhandling, a description of the conditions pre-dating the 1966 riot at Compton's Cafeteria in SF, and a panel reads Service Refused – Janus Society – Homophile Rights, describing the sit-in at Dewey's restaurant in Philadelphia in 1965. Literal obstructions to seeing oneself in these mirrors – glare from bulbs, the aspirational upward tilt of the reflective surface, and etching that interrupts the viewer's image – create a context where constructing self-representation is necessarily done via a pastiche and patchwork of geographies and time.

mirrored acrylic, light bulbs, poplar, electrical cords24″h x 72″w x 12″d2014


semiotics, Softie is a sign pressed up against a wall in a posture that signifies punishment as much as submission, occlusion as much as exhibitionism. The work works to counter the kind of fanciness associated with recognition and access – a fanciness that does not lose any of its desirability, however one might critique the sources/structures that generate such status. Its materiality – poplar and industrial felt – is resolutely functional, queering representations for desire with an aesthetic that could be described as a distinctly dyke pragmatism. Fancy, read backwards, does noun and verb as much as adjective; tangling the momentum of any singular read like the interlocked fibers in its soft (heart)felt text.
industrial felt, poplar
72″h x 78″w x 36″d
2014
Bridge and Tunnel for Walt Whitman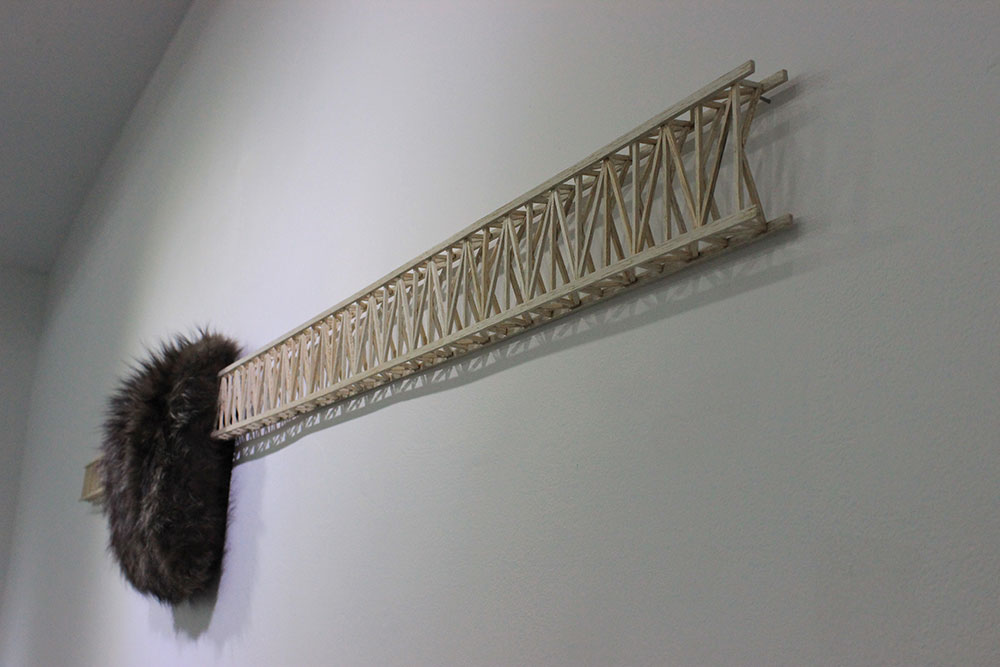 When the Walt Whitman Bridge, spanning from Philadelphia to New Jersey, was built in the 1950s, conservative Catholics organized to protest its title, but dared not speak the name of the love they associated with Whitman in their objection. The work's fur muff serves as both formal beard and doubly penetrated central core, bridging two balsa wood renderings of the suspension bridge.


12"w x 96"l x 6"h
balsa wood, fur
2014